For The Hot Summer Season We Are Back With A Fresh Release And New Features
Release 1.5 brings several updates: interactive clipping and annotations in the AR view, as well as an improved UI in Twyn Studio that makes working more intuitive and faster.
The new versions of Twyn Studio and View are available for download. Get them now.
Clipping & Annotations In AR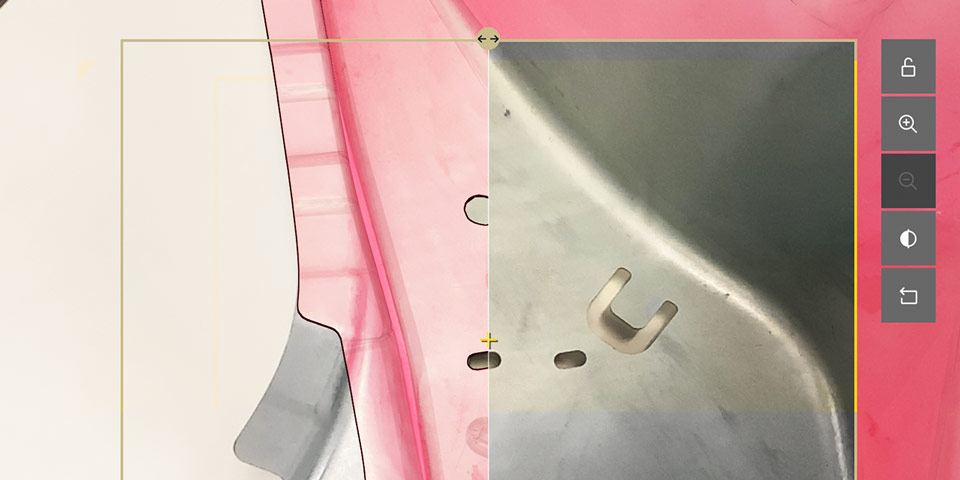 Interactive Clipping Area
To get even better insights about the differences between target and actual of an inspected object, the Lens Tool now offers a clipping mode that crops the augmented 3D data in a freely adjustable area.
This allows to perform a target-actual comparison along the clipping, or to inspect the real object behind the augmentation more closely. By interacting with the clipped area, the real part can be compared even faster and more directly against the CAD specification – detail by detail.
Annotations
Starting with version 1.5, Twyn enables to create and present annotations. With them, additional information can be displayed and spatially located in relation to the physical component.
Besides geometric data, 3D models often contain additional information. This can be detailed metadata such as the torque of a screw, production notes or the material properties of an object. Since such information often cannot be fully represented in AR, annotations are used as an interactive reference for the representation.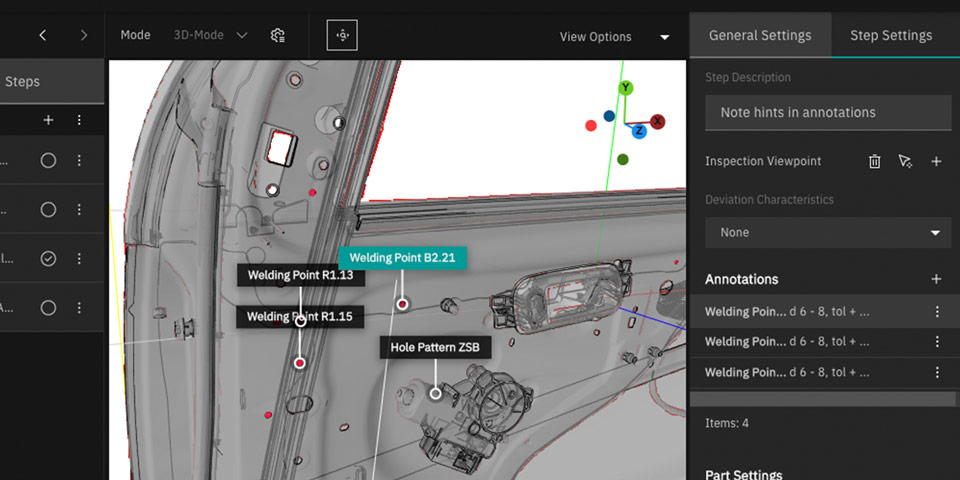 As of version 1.5, annotations can be created in Studio and positioned in relation to the CAD/3D model. In Twyn View, these can be seen in AR, spatially located at the exact position on the real component. Detailed information can then be viewed by simply clicking on the corresponding annotation.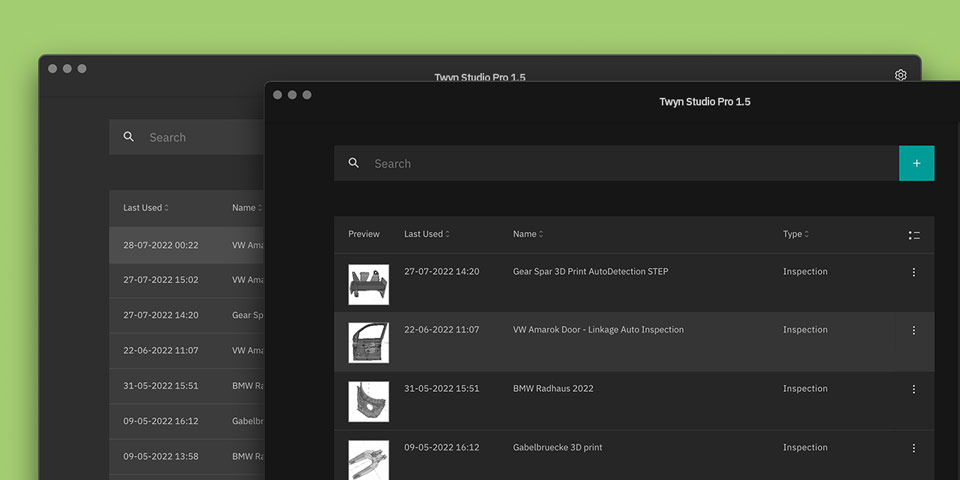 Grid View
In the project view, you can now switch between a list view and a »grid view« with thumbnails: These small thumbnails provide a preview of each project and make it easier to keep track of them.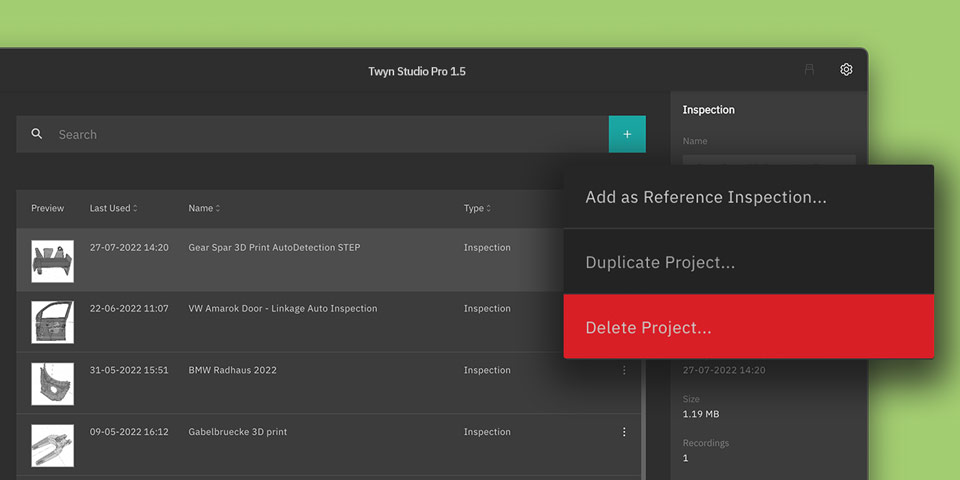 »Duplicate Project«
»Duplicate Project« enables to create a 1:1 copy of an existing project, in order to either build a new one out of it, or to make modifications to the copy without overwriting the original project. This saves tedious click work, because all settings and data are  duplicated as well.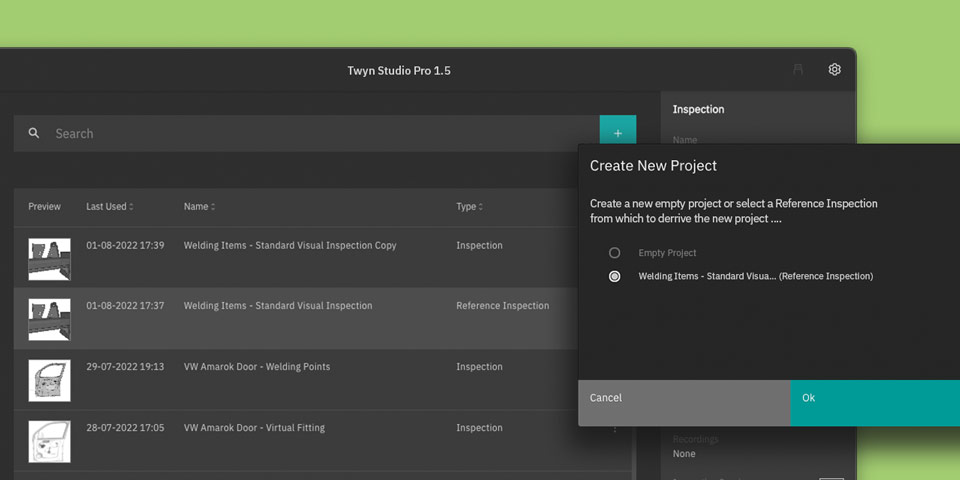 »Add as Reference Inspection…«
This functionality uses the selected project as a reference and creates a template from it as a blueprint for future inspection projects of the same pattern or type. Meta data, such as the deviation characteristics and inspection steps, are as well transferred to the template.
When creating a new project, you can then choose to create it from a template or as a blank project.
»Hallo Twyn« – Docs Now Also Available in German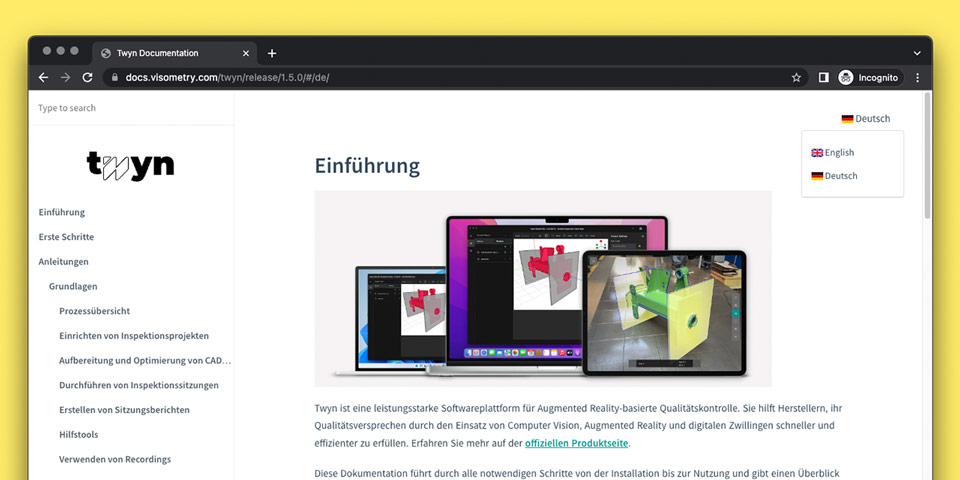 As always, you can get an overview of all innovations and changes in detail in the current documentation.
»Hallo Twyn!« With the new release, we have not only extended the documentation, but also expanded the language support and now provide the docs also in German language.

Update Twyn Studio & View today at no additional costs. You can use the update with already purchased licenses.
Looking for ways to get quality inspection faster, more digital and more efficient? 
Then, Twyn is a good choice: Test the platform within a 30 days trial and continue using it on a daily basis with a regular license.
Contact our sales team to learn about licensing options or to extend existing licenses.
More About Twyn
New to Twyn? Get to know the intuitive software platform for quality inspections, powered by Augmented Reality and Digital Twins.