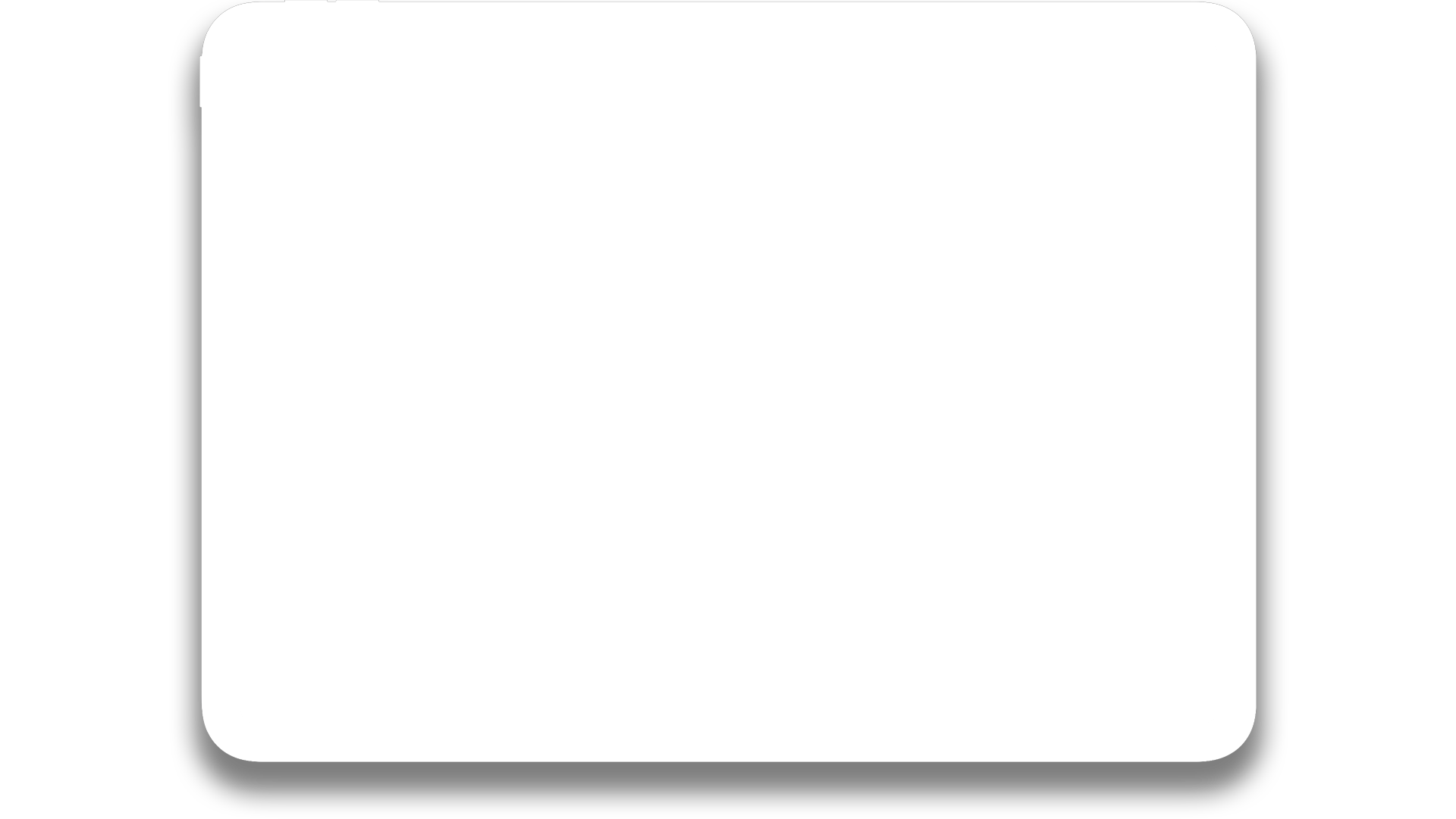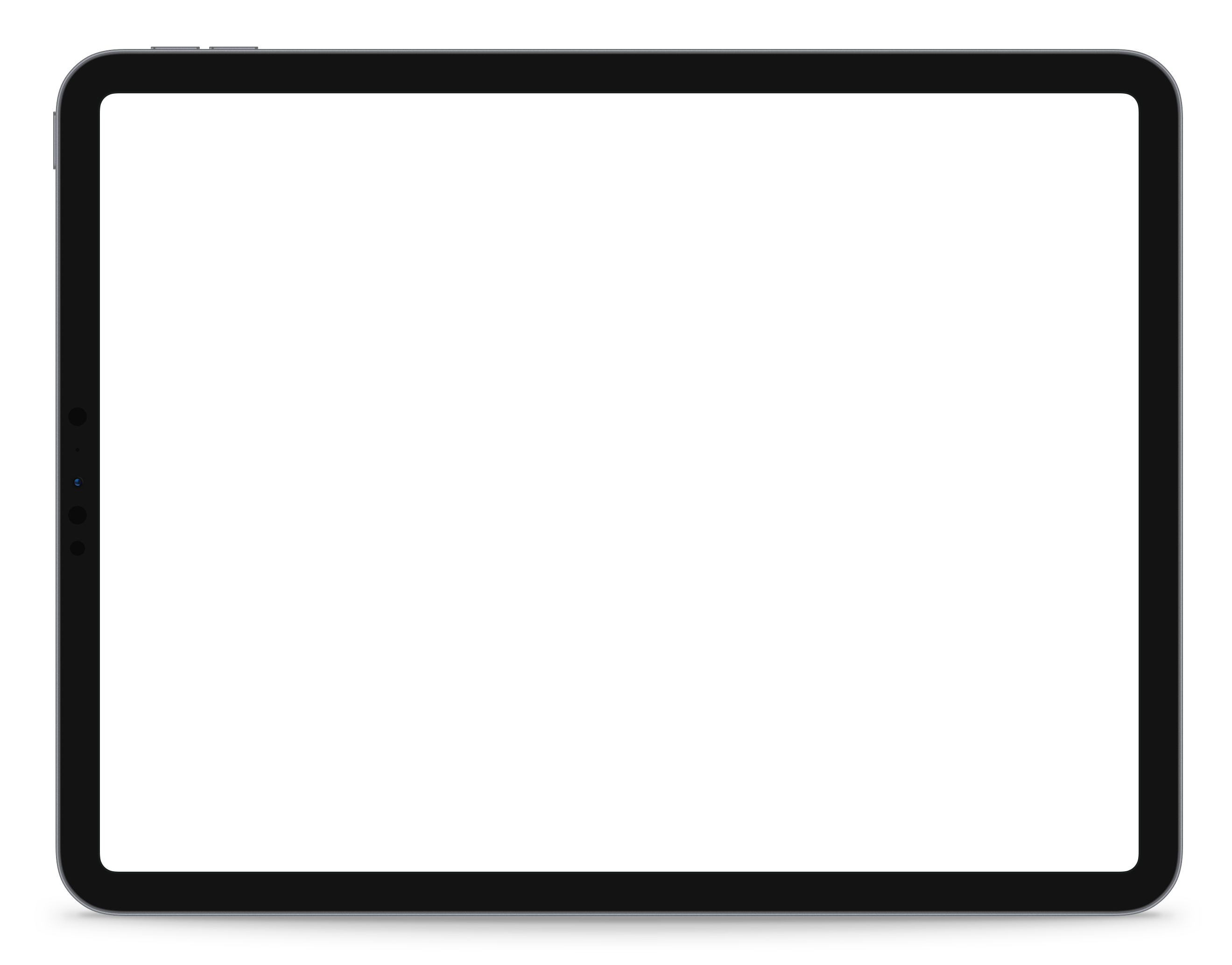 Twyn helps manufacturers to fulfil their quality promise. In a fraction of time of their current workflow. With a digitized & augmented visual quality inspection. Meet Twyn.
Quality Inspection –
With Augmented Reality & Digital Twins
Imagine there was a way to perform visual quality inspections faster, assisted by a digital workflow and reduced setup times. To ensure quality before components go into production or to find deviations faster during errors analysis audits.
With Twyn, there is. AR enables to superimpose a digital twin onto its component to compare target/actual directly. Inspect components in real time and on the spot. Mobile and more flexible. In a more efficient process that enables to increase the sampling rate.
More efficient.
More flexible.
Industry precision.
Twyn is a mobile, digital-by-design solution for quality control. It enables manufacturers to create and perform visual quality inspections.
With augmented visual inspections, Twyn is changing the way how parts, components and assemblies are backed up for quality and suitability. 
For companies with a large number of product variants, like in machine construction, automotive, aviation, inaccurate parts/assemblies cause high risk for consecutive errors and follow-up cost.
Localized through the tablet's camera, Twyn automatically registers and tracks manufactured items. Augmented Reality overlays then superimpose a digital twin directly on the object, making deviations between target and actual directly visible. 
Benefits that prove themselves valuable particularly at the beginning of the production process, because downtimes can be avoided by finding errors at an early stage.
Application Areas & Use Cases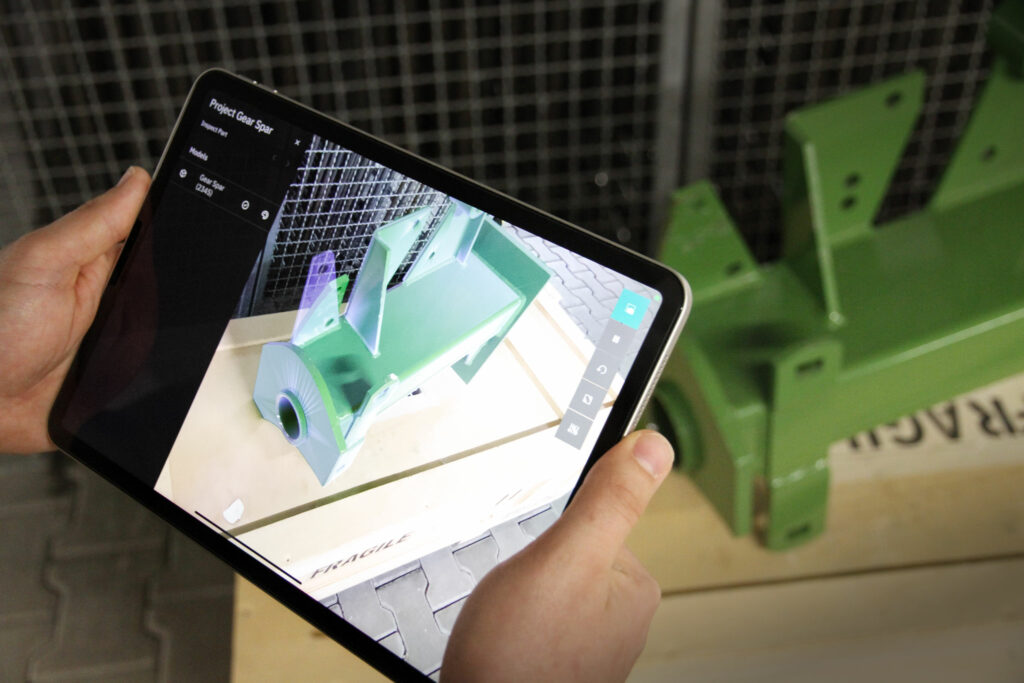 Incoming Goods Inspection
For today's complex and variant-rich product portfolios, manufacturers work with a large number of different suppliers. Limited functionality, deviations from product specifications or processing defects may lead to delays, failures, and expensive returns.
With Twyn, components can be inspected at the incoming goods reception, before they go into production. It  simplifies the acceptance process and helps to ensure that components are actually delivered in the agreed form.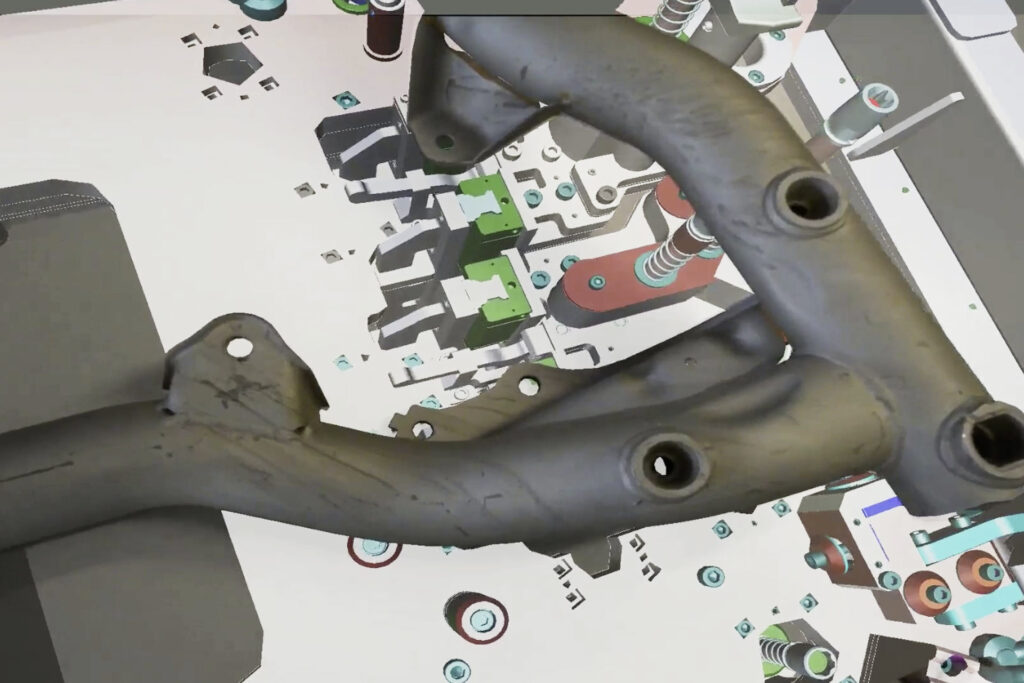 Special fixtures and tools for efficient processing and assembly of workpieces are essential to industrial production. Often custom-made, they are complex and expensive to create and optimized within several runs, until the actual tool can be built from multiple prototypes.
With virtual fitting- and overlapping tests, Twyn enables this process to be accelerated by comparing prototypes against their digital twin and planning states before further prototypes are created.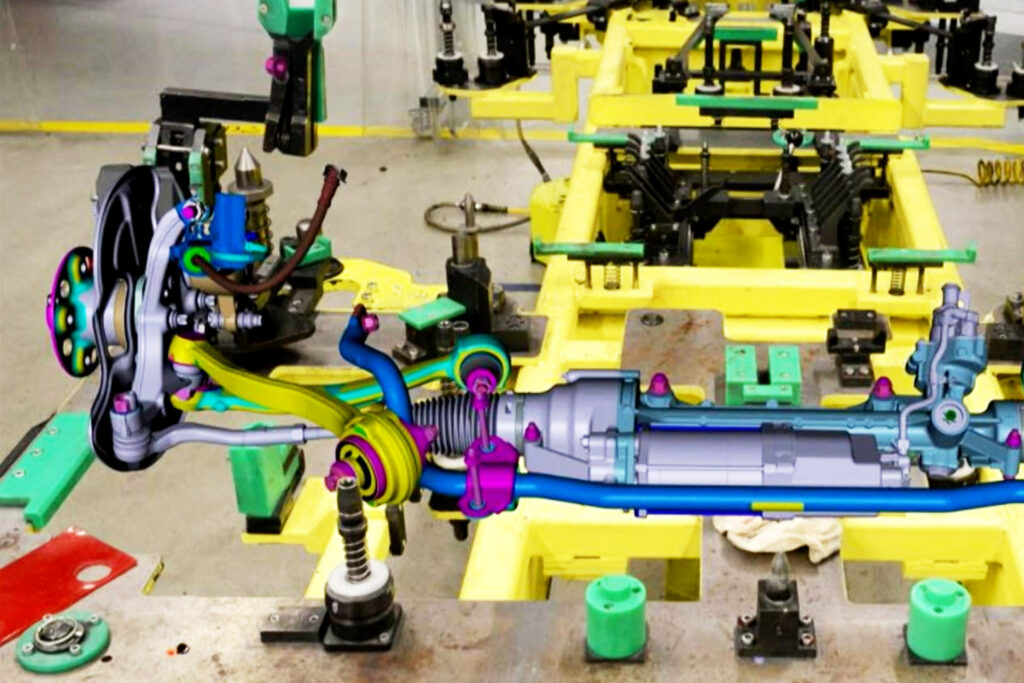 Twyns augmented visual overlays are a perfect way to compare the as-is against the as-planned status, for instance for:
concept evaluation using virtual prototype parts
analysing production equipment before shipment to the factory
comparing reality-captured prototype components against the digital development progress
determining adaption requirements of fixtures, tools or production environment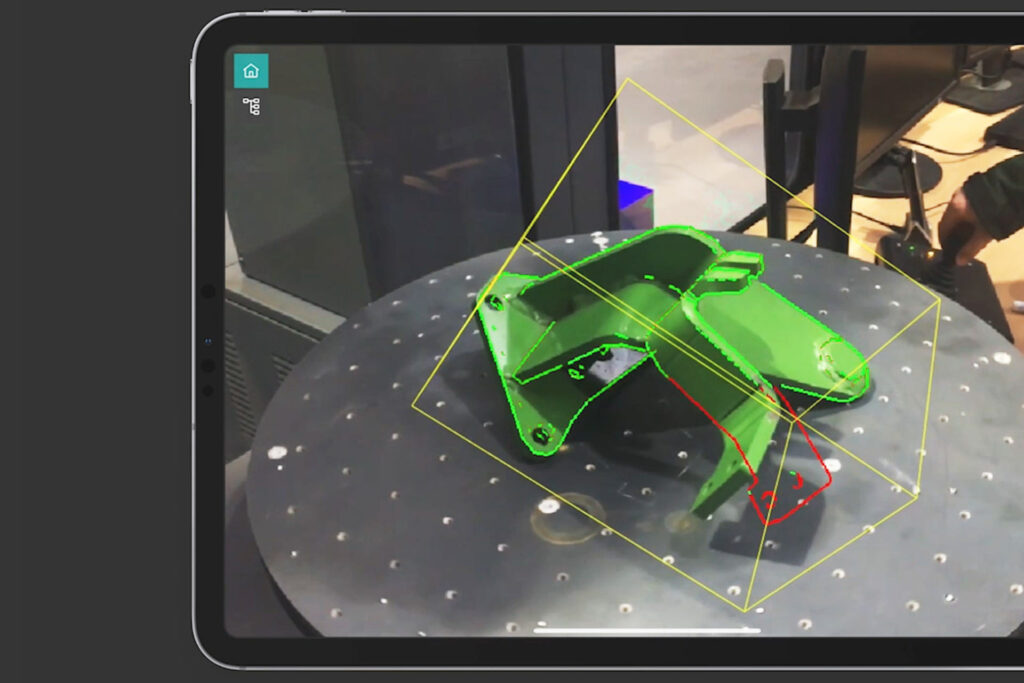 Application Areas Overview
Perfect for a variety of applications, here are some of the most relevant areas, :
fixture construction
prototype construction
equipment construction
incoming goods inspection
geometry validation
toolmaking
concept evaluation
Compare Target/Actual Directly on Components – Thanks to AR.
There is much to say about the value of Augmented Reality for quality inspection.
And, there is to see it action. Watch some examples and learn about the benefits.
Incoming Goods Inspection 
Verifying welded construction from suppliers.
AR automatically captures a component and overlays its digital twin. Perform a precise target/actual comparison to quickly find deviations and creates reports with photo proofs instantly on that way. 
Verify digitally whether add-on parts or engineering design drafts will fit in, with Virtual Fitting. Digitally, in Augmented Reality.
Virtual testing. Tangible results. Different variants can be evaluated without having to create prototypes first. Saves time and material, and costs.
Verify Larger Items on the Spot
Carry out inspections flexible and mobile at any location; directly where components are produced or stored.
Powerful inspection tools, like magnification, help during inspections and to point out details.
Increase the gain of quality control, without increasing costs
Finds Defects. Instantly.
Using augmented reality overlays, Twyn points out aberrations instantly and enables to identify more errors in shorter time compared to established 3D measurement techniques.
By being faster in the process, you can increase the inspection rate by up to a factor of 6.
Decreased Time for Setup.
Twyn uses marker-less 3D model alignment to auto-register manufactured parts to CAD models. This reduces the tooling time needed to prepare inspections tremendously.
It only takes a couple of clicks to setup new inspection cases based on CAD or 3D data.
Mobile. Flexible. Digital.
With Twyn on a tablet, inspections can be performed directly on the spot, instead of bringing heavy & bulky samples to a measurement machine or test bench.
Inspect parts location independently, at any time in the production cycle: incoming goods receipt, assembly, or end of line.
Why Augmented Visual Inspection?
Immediately, at the first glance, see whether an assembly has missing parts or is complete. Check, if the right parts are assembled, and, if all parts are exactly at the right position.
Save Money from the First Use.
 Twyn points out defects instantly and finds more & additional errors more quickly than traditional 3D scanning techniques, which leads to much higher inspection rates.
Quality incidents get significantly reduced, leading to drastically lower internal & external consecutive costs.

With Twyn, setup times decrease tremendously, compared to current techniques *. You can start and process inspections faster.

Saving time in the process, increases the number of possible inspections per day. Depending on the case, Twyn enables to reach a 100% coverage.

Being able to perform more inspections, costs** per inspection decrease significantly at the same time, including labour & equipment costs.

Decreased Carbon Footprint **
Countless parts, who won't pass QA, are shipped back and forth. Twyn reduces unnecessary transports, safes time & resources.
* Many quality control measurements are performed manually or in elaborate 3D measuring processes. Inflexible and associated with high personal/equipment costs, these procedures lead to inefficient and error-prone quality checks.
** Costs associated with activities specifically designed to measure, inspect, evaluate or audit products to assure conformance to quality requirements.
"But what really impressed us was that Twyn enabled us to perform checks unrealizable so far: Because Twyn is all mobile running on a tablet, our engineers can now bring the inspection to (even very big) assemblies, not the other way around."
Twyn Demos, Expos & Events
September 14 – 16. In-person. Stuttgart, Germany
Read More ›
We're always delighted to present Twyn at events, giving a first-hand impression how it works. 
Our blog has videos and insights of past expos with almost "in-person demo" experiences.
See and feel Twyn working with own hands! Save dates of upcoming events or get in touch:
A powerful software platform for Augmented Reality-enhanced Quality Inspections
Twyn empowers quality-related inspection and pushes it to the next level. With simple and quick workflows, the tandem of Studio & View makes setup of AR-enhanced inspections and the usage of it as easy as can be.
Twyn Studio is engineer's comprehensive desktop tool to setup inspection cases
Based on 3D CAD data, Twyn Studio enables to design and edit inspection routines and AR-related assets, which can afterwards easily be deployed to Twyn View.
The organised GUI streamlines the workflow into comprehensive steps, from data import and optimisation, up to defining inspection areas.
Twyn View turns iOS tablets into powerful mobile inspections tools
Once created in Twyn Studio, simply load and run the inspection project on mobile devices.
Gain from automatic object registration and precisely aligned visual augmentations that enable to compare manufactured items against their CAD specification and digital twin – all by capturing reality objects through the camera.
Benefit from computer vision assisted inspection that enables checking items for existence, valid positioning and general misfits.
Faster Workflows with CAD & Digital Twins.
Twyn speeds up and eases the workflow from setup to inspection. The video shows how to set up an augmented visual inspection with Twyn:  from setting up the inspection case in Studio, over performing the AR enhanced inspection on the tablet with View, to reviewing instant documented results in the comprehensive report.
With Twyn, working with Augmented Reality on an enterprise-level is fast and seamless, as there is no deeper knowledge needed. Setup and use AR with a few clicks. Code-less. Drag&Drop-style. Enterprise Augmented Reality made easy.
In order to enable this, Twyn uses object detection powered by Visometry's VisionLib Engine. The tracking SDK is the basis for a wide range of augmented reality applications that require high performance object recognition and precise tracking. 
Talk to our solution engineers.
Reach out now, and learn more about the Twyn platform and the most relevant features in detail. Ask for a trial or demo.