VisLab, the tracking configurator for VisionLib, let's you try and test model tracking without the need to write code or build an app.
Also, setting up & debugging model tracking for your projects with VisionLib, couldn't be much easier. Why don't you give it a try? › Get VisLab here.
---
Model Tracking has become the defacto standard in industrial augmented reality applications. Why so? Because it delivers markerless object tracking at high quality.
It uses 3D models or CAD data as reference information to detect and track objects. As such, the tracking setup is fast, with only a couple of clicks needed. And tracking-wise, the workflow is very easy to scale.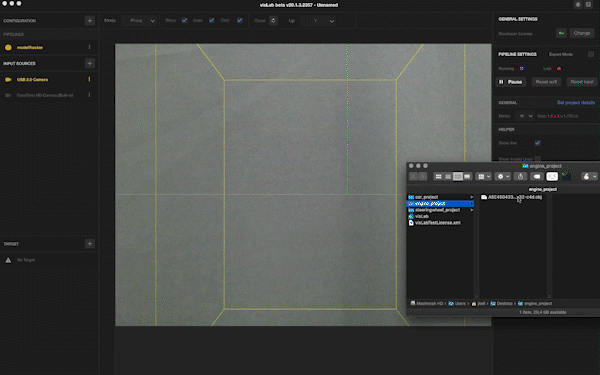 With VisLab, anyone can test/evaluate model tracking without writing any code. When we introduced VisLab two years ago, it primarily was designed for developers. But in fact: anyone can test object tracking without writing any line of code or setting up Unity projects in advance.
VisLab is basically an easy-to-use desktop app, which adds convenience and simplifies the workflow.
It starts by choosing a 3D file, then drag & drop it into VisLab and get immediate tracking results. It lets you assess a tracking case quickly. With no coding required, even a non-developer can check out model tracking.
VisLab: tracking configurator and a true companion during development
For developers, VisLab is ideal for debugging purposes, and to drill down into tracking details, while troubleshooting.
It adds an UI to VisionLib configuration files and enables to make changes to the configuration within a couple of clicks: you can easliy manage and choose input sources (e.g. use image sequences instead of live camera input, which is pretty handy), quickly change the 3D model, tweak essential tracking parameters and assess the quality of your tracking.
That's not only more convenient, it liberates your tracking setup from a specific platform, and enables to manage the configuration for your native app or Unity projects all in one place. And debugging your tracking case is much quicker and easier, especially when dealing with essential parameters.
Haven't tried VisLab yet?
Now is a good time to start. You can donwload it from the customer area and use it right away. For more information, have also a look on the VisLab page.
Drag it. Drop it. Track it! Happy Testing.
Let us know your opinion and drop us a line at hello@visionlib.com, and don't forget to subscribe to our newsletter.