---
In our recap, we show videos of our expo at Laval Virtual, where we introduced new Augmented Reality-enhanced quality inspection platform Twyn.
Read on to learn how AR helps tackling common problems in quality control, making inspections more efficient through visualization and tracking.
---
For the last 20+ years, Laval Virtual established to be Europe's key meet-up of major VR/AR players. Reason enough for us to join the event, present Visometry, and learn about what happens in the V/AR realm. So after nearly two years without any traveling, and a very bad year 2020 for get-togethers and exhibitions, caused by the pandemic, we were finally able to meet in person again.
And it was great. Being back with a real on-site VR/AR exhibition was simply wonderful. Thanks to Laurent Chrétien and his team for organizing this amazing event. And thanks to everybody who stopped by.
We must also acknowledge efforts LVE, in particular, took back in 2020 and once again to give people around the world the opportunity to join virtually: Using Virbela, LVE happened in an Altspace-like VR world simultaneously, with over 11.000 to enter it in 2020.
However, transferring an expo from physical to online isn't as easy as it might look, on both ends. For exhibitors, we lack options to make things tangible and interact face-to-face. And for visitors, we believe it is vital to get hands on an AR solution, to see and feel it with their own eyes and hands.
Twyn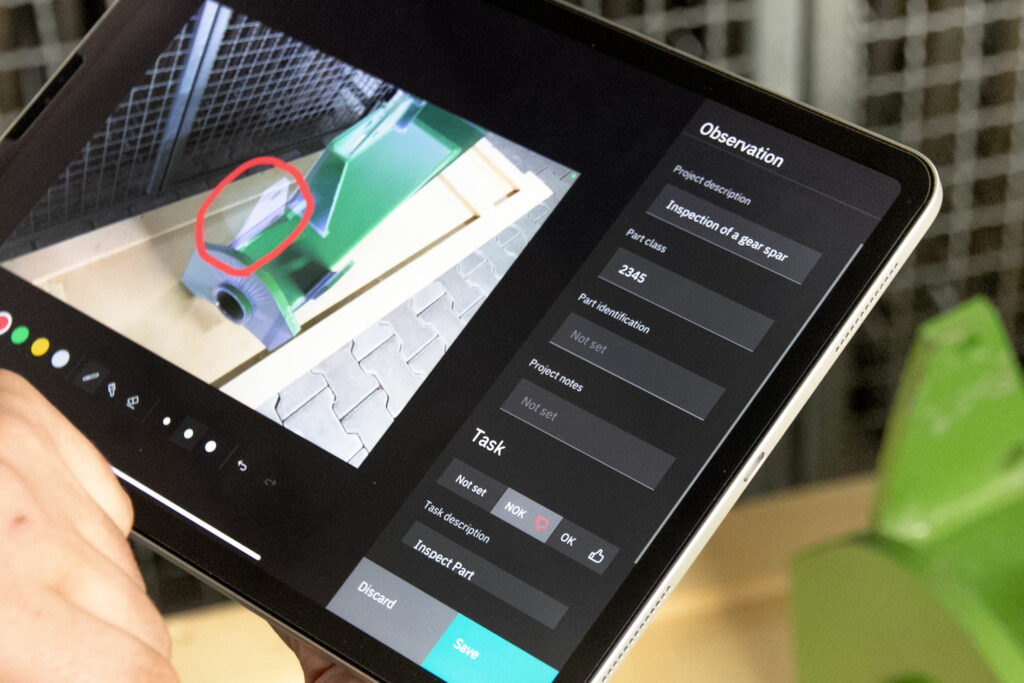 To give all readers something close to an in-person demo, we decided to share a couple of videos of what we've shown at the expo.
One of our recent highlights is Twyn. The mobile, augmented reality platform for visual quality inspection uses digital twins to make deviations between target & actual of manufactured items directly visible. Even better: deviations get automatically highlighted by an auto-detection. Manufacturers can use it off the shelf on a daily basis, with minimal effort to set up.
Quite promising, right?
At Visometry, we have explored and installed AR in quality assurance applications for some time now. It enabled us to learn the business needs in that area and helped us to understand limits and opportunities of the technology at the same time.
After almost a year of regular use, one of our early customers says the inspection tool helped him increase efficiency by almost a factor of 5. When we asked how, he named Twyn's low setup times. Using it, they decreased tremendously compared to their current standards.
Being mobile with a tablet enabled the customer to carry out inspections on the spot, almost at any location of his production site. And, how precise AR real-time overlays facilitate to find deviations is simply immense.
How AR for Quality Inspection Works with Twyn
To show how Twyn does the job, here are some videos that demonstrate the core features.
Augmented Visual Inspection
With Twyn and AR you get an easy-to-use, fast variance analysis with immediate results: Match manufactured items against their digital twin. AR overlays enable to see deviations between target & actual in real-time, virtually right in front of you, because the CAD model appears optically superimposed on top of the reality-captured object. Directly on your tablet's screen.
That is specifically useful, when deviations are small-scale, like in our demonstrator.
Virtual Fitting
With object tracking, one of AR's benefits is to augment real objects with only virtual elements with high precision. In manufacturing this enables to match parts from construction with reality-captured assemblies for fitting purposes, before actually producing physical prototypes to do the same.
We have illustrated this for drilling positions and cable routing of a side mirror, and a speaker.
Auto Alignment-Check
This is a feature that truly enhances inspection. With Auto Alignment Check, Twyn can automatically detect and highlight deviations. As a user, you get instant inspection and indication of divergences, assistance by the computer vision. So nothing slips attention. The color codes emphasise the state in real-time:
Red: part is assembled in wrong position
Green: part is correctly assembled, as specified in CAD
Digital Documentation
Documentation usually doesn't come to mind as a highlight feature, but in quality control it is essential as it backs inspections and enables engineers, and indeed the entire company, to protect against inquiries and claims. Because with a camera always in place, AR helps create pictures that are always in the right position for documentation purposes.
What's next
If you missed us in Laval but would have loved to come, there are a couple of more events upcoming in late summer/early fall, such as Vision'21 in Stuttgart, Germany, and AWE in Santa Clara, USA. Check out all events on our homepage.
Funny Aspects
LVE probably eventually thought, our company name should look or sound more French and accidentally placed an "accent aigu" on the 'E' at our company name's booth plate 😂 – no worries @LVE, c'etait d'accord pour nous. 😉
As a startup, you're always trying to save some money here & there, so our away team thought they pack the family's van and come to Laval, France, with a car (whose mileage is already beyond 300,000) – stuffed up to the roof. We hope the ride was still quite pleasant, guys!