Learn more about VisionLib and donwload the free trial.
Augmented Reality Tracking for Industries
VisionLib is a multi-platform tracking library for enterprise augmented reality applications.
Its Model Tracking combines CAD with image processing and brings true 3D object tracking to mixed- and augmented reality applications.
Augmented Reality Tracking for Industries
VisionLib is a multi-platform tracking library for enterprise augmented reality applications.
Its Model Tracking combines CAD with image processing and brings true 3D object tracking to mixed- and augmented reality applications.
Enterprise-grade Object Tracking for AR & XR
VisionLib is the basis for a wide range of augmented reality applications that require high performance object recognition and precise tracking.
It enables enterprises, AR platforms and developers to extend the context: augment objects and blend, overlay or pin digital information into reality.
Deliver critical information in the context of work, guide where to focus next, or add visual information layers and spatial 3D graphics to reality's objects.
AR tracking, fast & accurate with VisionLib's enhanced model tracking
Model Tracking is industry's lead tracking technology for enterprise augmented reality. Because it enables to detect and track objects, without the complaints of SLAM feature-maps, that don't work well.
VisionLib's enhanced model tracking enables to use 3D models & CAD data to set up trackers, as they are perfect references for your physical 3D objects.
This tackles not only typical AR problems, like bad light conditions, dynamic scenes, low-textured or moving objects – it also makes the set up of tracking configurations much simpler, because no prior preparation or pre-registration steps are needed.
With VisonLib's Enhanced Model tracking AR is ready to scale.
Precise & Reliably Robust – Unlike Many Others
Precision, to augment information right on point. Reliably robust, to cope typical tracking obstacles, like chaning lights and dynamic scenes: tracking at industrial scale.
Object Detection, 360° from any Angle
AutoInit brings 360 degrees object detection from different angles and powers up model tracking with AI: it liberates from an initial pose to start tracking. Now, track objects from any side, instanlty + immediately.
Multi Object Tracking – separately together
Multi Model Tracking  enables you to track objects separately at the same time. So, when you move these objects freely in different directions, VisionLib will track them, once detected.
Advanced Industrial Tracking Features
Multi-View, (multi) camera-assisted real time measurements of physical objects based on their digital 3D data. Be it angles, points or lines – up to sub-millimeter accuracy. Learn more about our control services.
AR-enhanced Maintenance & Training
Hands-free, AR-enhanced maintenance & training cases with HoloLens 2 and VisionLib deliver persistent augmented information layers while working.
VisionLib's Model Tracking enables HoloLens 2 to automatically register & track objects and pins information precisely on point.
AR-enhanced Object-to-Object Measurements
Core funcitonality in production and engineering, enhanced with AR: Measuring distance between two objects with just a monocular camera.
CAD-based​ and realtimes, VisionLib's Multi Model Tracking enables such AR-enhanced measure and inspections cases.
AR-enhanced Inspections with Digital Twins
Mobile, handheld inspections with Augmented Reality: control and check desired and actual construction states for inconsistencies, missing or wrongly installed parts – already within the prototyping phase.
Model Tracking enables such cases, where visualisation and tracking date can change on the fly.
"The overall performance and quality of tracking in the latest VisionLib release has been amazing."
About:
Design Interactive specializes in interconnected and interdependent XR systems to train and prepare current workers for today's digital ecosystem for a sustainable and adaptable workforce.
"I truly love the VisionLib SDK. The model target recognition performs great and every target recognition looked very precise. Great job from the team over there!"
About:
Avatar Partners develops innovative solutions that simplify complex systems to increase the efficiency, safety and effectiveness of equipment and processes for First Responder and Commercial Industries, including training systems and job performance aids.
"We're excited that VisionLib now supports Unity and Unreal, so there is no need to switch platforms, only because we switch the medium for different communication purposes"
About:
NSYNK is a digital design studio and creates virtual productions and XR experiences, stages, broadcast and mobile apps. Co-founder of Europe's leading virtual production studio, Hyperbowl, their customers include Porsche, VW, NXP and CAT Europe.
"From small products to real-sized vehicles, VisionLib's Object Tracking allows us to create rich XR experiences, such as making innovative yet invisible technologies of EV vehicles visible and tangible."
About:
Atelier Markgraph is a design studio for brand and theme experiences which creates digital and analogue, permanent and temporary spatial experiences for corporate and culture. Customers include Daimler, Vitra, Deutsche Telekom, and Senckenberg Museum.
Get the SDK and a trial license for Unity & start developing immediately.

Test VisionLib without coding, try our Demo App.
Learn how to successfully install AR to meet your business requirements. Benefit from our expertise and technology. Get in touch.
»XR made with VisionLib« – featured Customer Cases
VisionLib in action: get inspired by customer cases. We are impressed and honored to see, what partners and clients have created using VisionLib.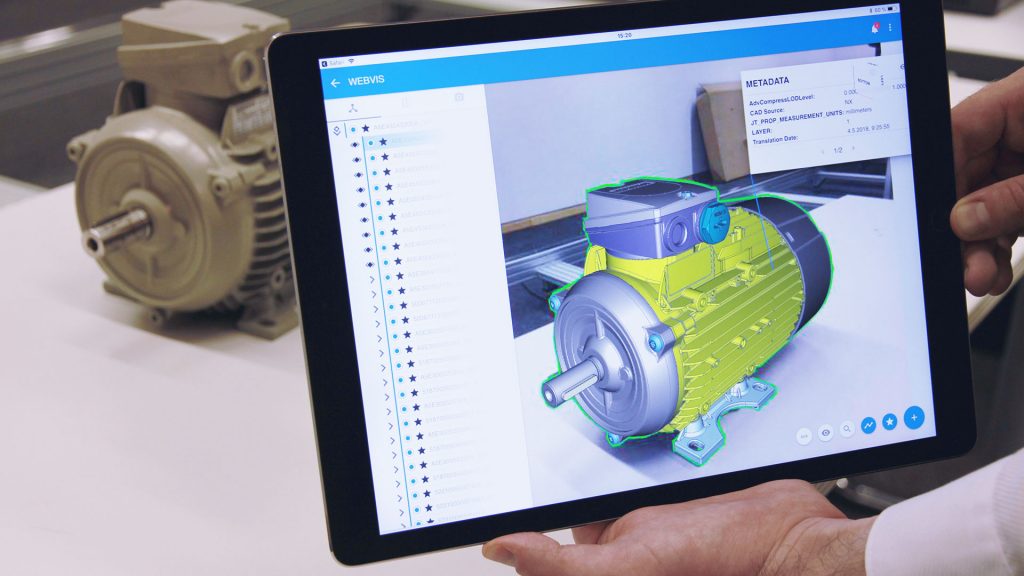 VisionLib's Model Tracking is Key Enabler for Enterprise AR ...
… and this for a reason: it enables object tracking at industrial scale: fast, accurate and reliable object Tracking for Augmented Reality business use cases.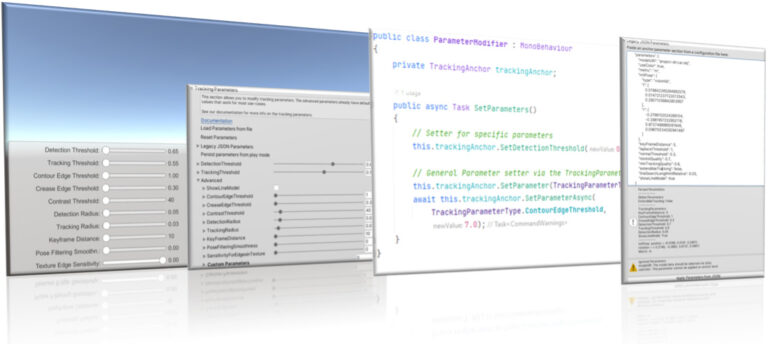 December 12, 15:00 (CET). Online Webinar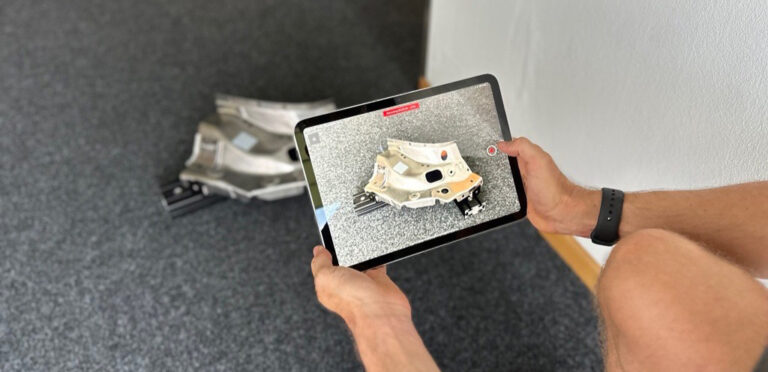 January 16, 2024, 15:00 (CET). Online Webinar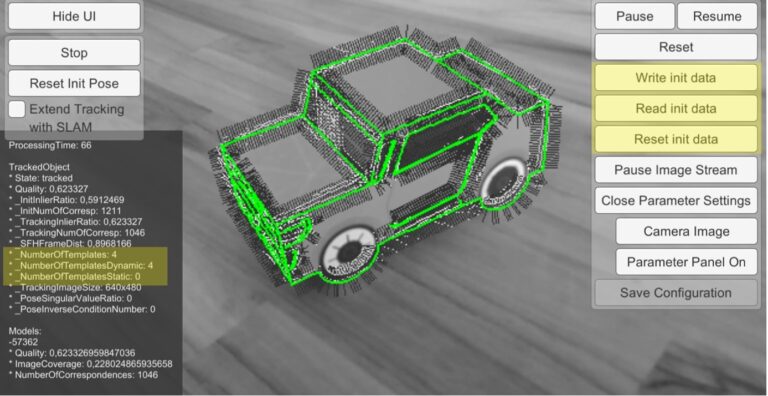 February 13, 2024, 15:00 (CET). Online Webinar