From May 3-6, meet our team in-person at hall 6 – Booth 6401, "Sonderschau Berührungslose Messtechnik"
Connect to the team and learn how our mobile inspection system Twyn sets new standards for quality inspection with Augmented Reality and Digital Twins. Check quality faster, while keeping reliability. 
Get Free Tickets & Meet Us In-Person
Why not make an appointment directly and secure a slot with the team on site? Also, use the chance to redeem a free daily ticket with us.
Schedule Your On-Site Meeting
Tell us how we can help you meet your challenges with our solutions.
Why don't you request a no-obligation appointment with our experts on site, right now? Looking forward to meet you.
Get Exclusive Tickets with Visometry
Look up our online profile at the event platform and request a ticket code to save yourself a pass *: 
* Please note. This is an exclusive service managed by the event organisers. Contingent is limited. Offer valid as long as ticket codes are available. The general terms and conditions of the organiser apply.
Control '22 – Intl' Trade Fair For Quality Assurance, Stuttgart (Germany)
When?
May 3-6, 2022
Where to find us?
Hall 6 – Booth 6401.
We're part of a joint booth, running under campaign "Sonderschau Berührungslose Messtechnik".
How to get there?
Get all essential details at the official webpage.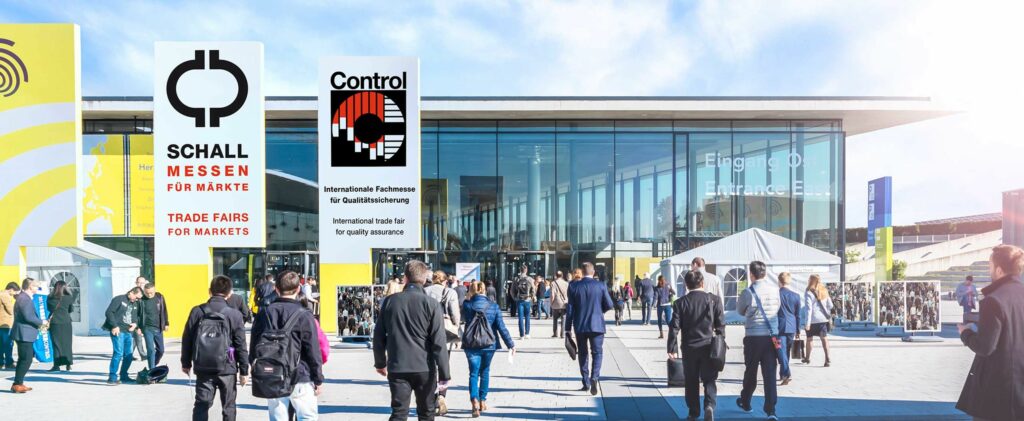 The Control international trade fair for quality assurance, provides suppliers and users with a globally recognised technical event which is focused strictly on relevant issues.
The trade fair explores all pertinent aspects in theory and offers a highly practical presentation of current worldwide offerings for useful technologies, processes, products and system solutions in the field of industrial quality assurance.
And thus manufacturers and exhibitors of QA equipment represented at Control make it possible for manufacturing companies and their suppliers to hone their competitive edge.
The supplementary programme with world-class participants and the comprehensive exhibition and information portfolio will once again transform Stuttgart into the business Mecca of the QA industry in the spring of 2022.