Why Augmented Reality for Quality Inspections?
It's mobile, fast and intuitive – for reliable & convenient inspections
Visual Quality Inspection with AR and Twyn has found its way into the automotive industry for good reasons: it enables mobile, fast & intuitive, yet reliable & convenient inspections.
Interactive Target/Actual Comparison: Through AR overlays on a tablet, operators can easily match manufactured items against their digital twins.
AR superimposes CAD specs directly on manufactured items and inspectors can visually verify if parts differ from CAD, or if they are properly produced.
Easily create inspection plans and perform inspections in real time – regardless of where parts are produced or stored.
This makes it fast, intuitive and convenient to check if:
parts have their geometric features exactly where they are supposed to be
assemblies have missing parts
components are properly assembled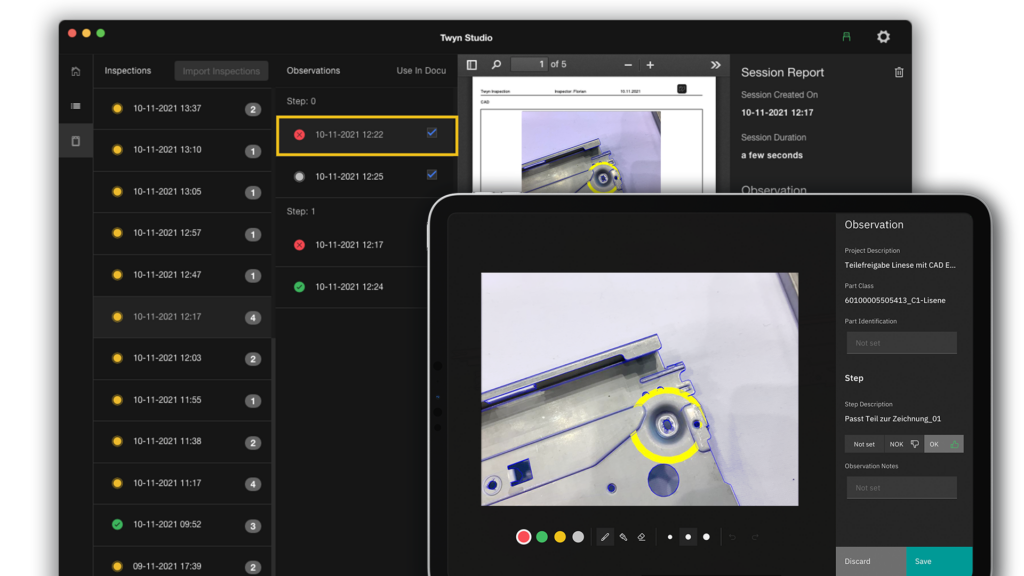 Improved and Simplified Processes: from Inspection Preparation to Enhanced Collaboration
Fast & flexible mobile inspection and real-time documentation to always ensure quality
Simply import your CAD data and the solution is ready for inspection:
no 2D drawings or programming required
no hardware setup and markers are needed
location independent – start inspection wherever your parts are located
Neither metrology expertise nor AR knowledge are required:
inspection steps & viewpoints guide users and speed up inspection routines
operators can follow predefined inspection plans, checking predefined areas 
definition of inspection areas for streamlining repetitive inspection routines
CAD models are optimized for onsite inspection, ensuring speed and optimal user experience
Inspecting and document results at the same time:
direct inspection results' visualization
real-time on-site textual and visual annotations
Comprehensive reporting & result recirculation:
customizable, digital reports to be shared in multiple formats with internal departments and suppliers
projects and reports can be shared across different IT platforms
Inspections Based On CAD-Model
Minimum setup, focus on inspections
Without the need of any additional software, Twyn allows to prepare, simplify and optimize CAD structures, eliminating all those details which are not relevant for the inspection routines.
This streamlines and speeds up quality checks – especially of very complex parts.
CAD data delivered by Twyn is optimized for mobile devices: minimum setup time is required, and quality inspectors can immediately focus on their inspection tasks.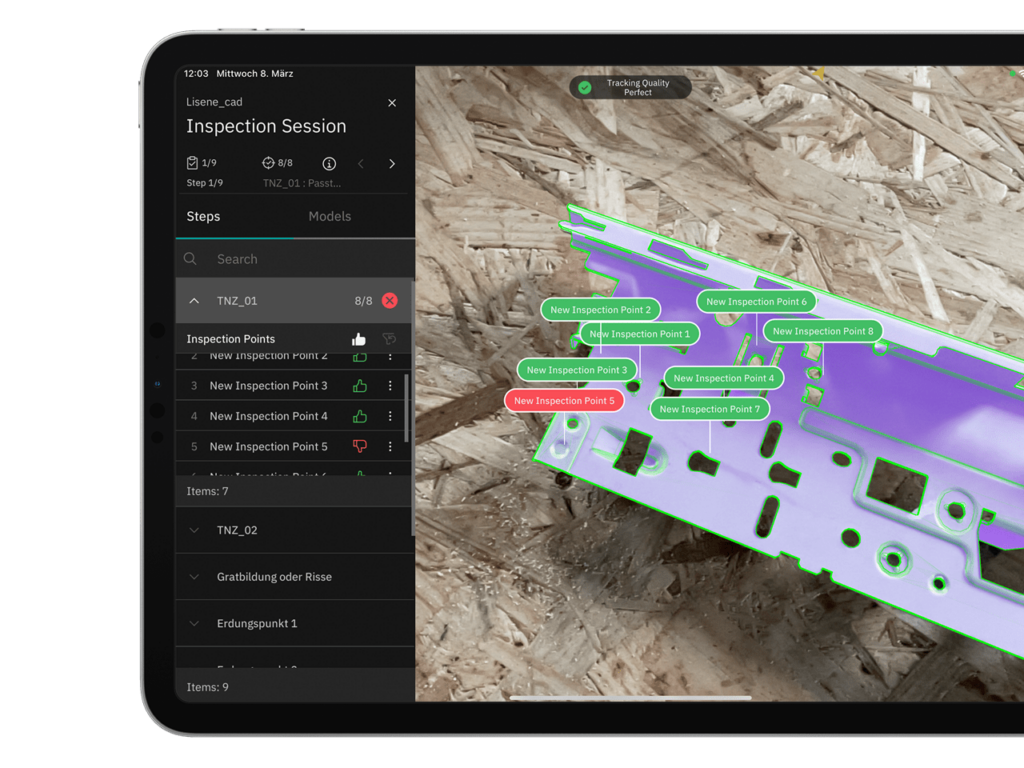 Inspection Plans – Guided Inspection with Inspection Viewpoints
Consistent procedures, results and documentation
Twyn operators can follow predefined and detailed inspection plans, checking predefined areas with multiple features.
The solution leads users with step-by-step instructions in form of comprehensive checklists. Visual indicators mark and highlight points of interest with 3D pointers, facilitating the inspections of complex assemblies.
This ensures consistent procedures, results and uniform inspection documentation – regardless of users and their experience.
Automatic, Real-Time Tracking and Registration
Fast yet accurate visual comparison
Localized through the tablet's camera, Twyn automatically registers and tracks manufactured items. 
Enabling a fast yet accurate visual comparison, Twyn's precise real-time object tracking works marker-les, without the need of any additional set-up or pre-preparation to analyze parts.
Real-Time Documentation & Reporting
Comprehensive documentation of inspection data & customizable, digital reports
Markups and annotations increase traceability and streamline the communication between quality, production, and construction teams.
Branded and customizable reports (with dedicated pictures) can be exported in multiple formats (such as XLS, CVS or PDF), and easily shared with suppliers as well.
Save time in the process and document results already while performing inspections and benefit form comprehensive functionality:
Photo evidence, marks & notes
Spatial documentation of findings
Classification & deviation characteristics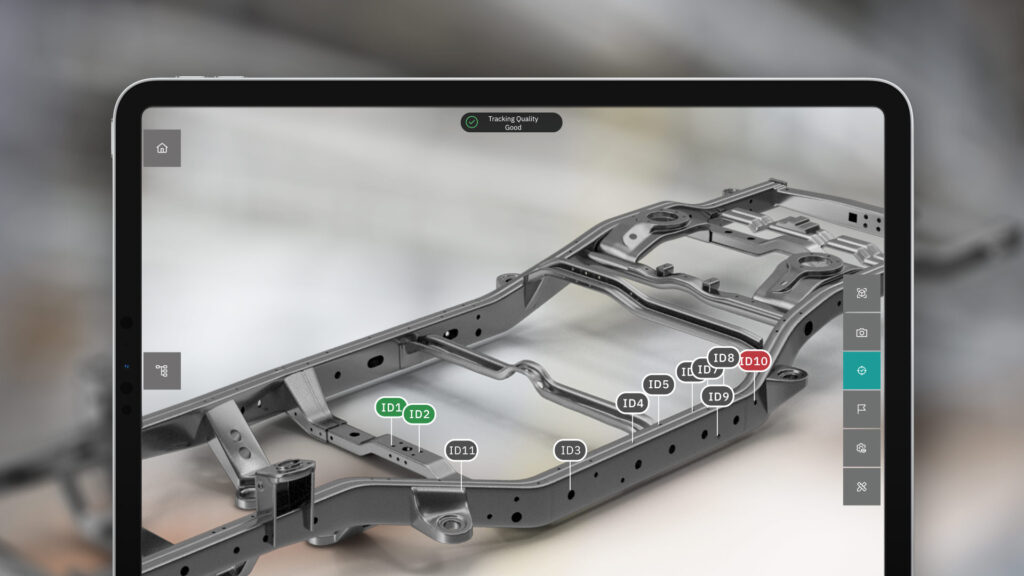 Body-in-White Inspection in AR
Proper integration of trims and other components
Check that all geometric features of the body frame are in the right place.
That's a critical prerequisite for proper integration of trims and other components (e.g. door locks and handles, electronic components, seats, …), chassis, subassemblies and the engine.
What's more, with AR you can benefit from additional workflows not possible before. For example, you can virtually check assembly steps with ›Virtual Fitting‹ by simulating the assembly in AR.
Furthermore, you can verify features for:
Location
Orientation
Existence
Amount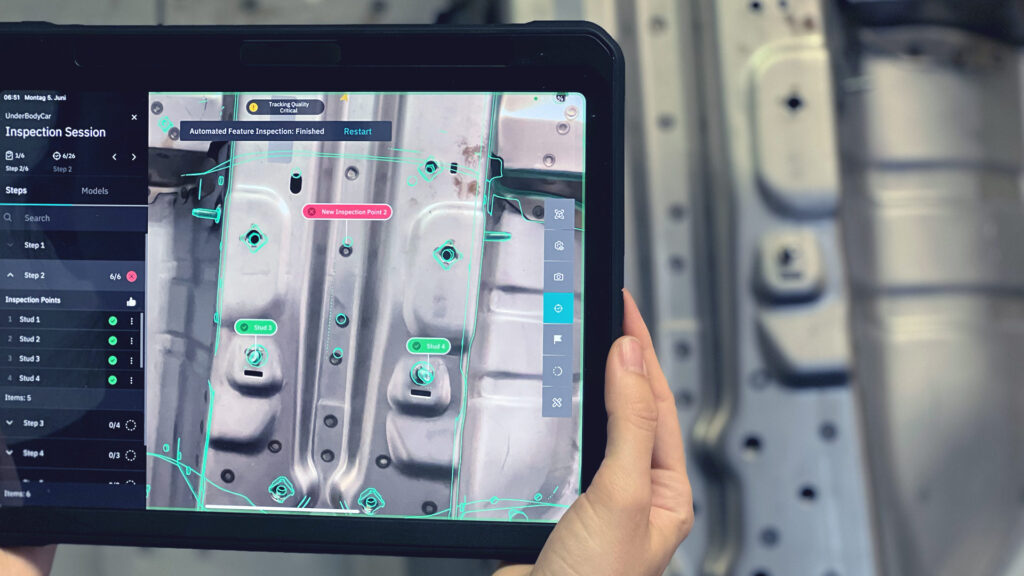 Verify Bolts, Studs & Welding Spots
Get support through automated verification via image processing
With Twyn, it is easier and faster to perform both complex and recurring checks to ensure that all geometric features of assemblies such as a body frame are in the right place – including welding points, bolts and studs. 
Furthermore, with AR you benefit from an automated import & creation of inspection points.
The assisted import of inspection data enables you to automatically transfer them into 3D, visualize them and export the results.
All the details needed to perform inspections are generated automatically. This helps to save time not only while setting up the inspections, but also during the inspection sessions.
AR increases sampling & inspection rates, and allows to speed up recurring inspections. 
Check automotive production equipment with AR
Tools for efficient machining and assembly of parts are essential for industrial manufacturing, ensuring that components are manufactured according to specified requirements.
Twyn and AR are ideal for testing custom designs & solutions
3D-to-3D comparison facilitates verification of those many, often complex details
AR digitally supports the entire realization process, while performing several runs until the final tool is built
Digital process, location-independent, ideal also for large components and assemblies
Jig & Fixture Construction
Check position, orientation and alignment of many moving parts
Jigs and Fixtures are important tools in manufacturing. They need proper positioning and alignment to ensure reliable machining operations. Twyn enables to check and adjust alignment in real time.
Ar allows to prevent costly errors and rework during fixture deployment thanks to a speedy and interactive CAD-based inspection process
Twyn is ideal for reporting, allowing companies to spatially document changes also with photo evidence
Incoming- & Outgoing Inspections
Easy cross-company cooperation with suppliers
AR and Twyn streamline collaboration across organizations. They allow to check if both manufactured and incoming parts respond to specifications, also enabling a smooth execution of pre-defined and shared audit plans. 
Supplier companies can check if their manufactured components meet specifications before they are shipped for further production or assembly stages (outgoing inspection)
Supplied companies can use AR to quickly identify incoming parts that don't respond to specifications before next production or assembly stages begin (incoming goods inspection)
Risks for production errors are caught at an early stage